Twirling Around Town: Madison, CT
*Editor's Note: This was written March of this year on my blogspot. I wanted to transfer it here as my reocurring series, Twirling Around Town.
I started this blog with the vision of writing about my travels- of the dusty little small towns in Mississippi, how beautiful the stars were on a sleepy stretch of Tennessee highway, or the amazing Mama and Pop restaurant with the best king cake of all the land.
I live in Connecticut now and haven't traveled far in years. Even if the destination is a couple towns over- it's still some place different with a whole new little universe of busy coffee shops, underground record stores, boutiques that sell sundresses and postcards. Each new town is another place to explore, to find little things to fall in love with, to take pictures of and document.
Last week I met up with my mother and my brother Paul in one of my favorite Connecticut towns - Madison. Madison is a cozy coastal town that serves up a classic New England downtown with an art cinema, bookstore/cafe, boutiques, antique shops, old fashioned barber shops and plenty of places to grab a slice of pizza.
We met at RJ Julia's -abookstore/cafe for lunch and book browsing. It's a tiny little nook of a cafe - something that could be written with adoration about in one of the pages in one of the chapters of one of the many books they sell. Everyone was dressed like they walked out of Anthropologie or J Crew. So many pearls and oxfords. I sipped on coffee and took it all in.
After lunch, we browsed around. RJ Julia is known to have notable guest speakers and to be the crown jewel of downtown Madison.
I always loved the staff recommendation notes on certain books and the narrow, dimly lit rooms. It makes me want to read and read and read and then write and write and write.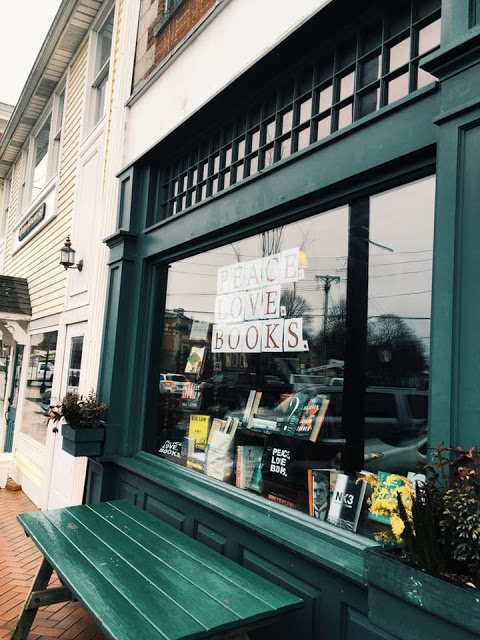 I ended up in Walker Loden and admired their variety of gifts, antiques and jewelry. I saw a beautiful, old fashioned Kodak camera on the shelf and I had to have it. I plucked it off that shelf (its now former home) and admired it in my hands. It fits perfectly as an antique prop in my office/babe cave :
We then walked over to more shops, window shopping. I kept track of what my mother seem to like. I wanted to get her a little something, I just didn't know what. I'd ask her questions about certain bracelets, or key pendants. I kept searching for something I know she'd actually use.
Finally we arrived at Ciao Bella and I spotted a nautical beach bag I knew my mother would love. My mom loves the beach and often spends her summers relaxing with a new book and nice tan. I picked myself up something too: a wide-brimmed hat that says "Leave a message" in a black cursive font. If only it was warm! I told my mother I had to go back to the car because I left something as we walked out of the boutique. I told her I'd meet her at RJ Julia's. I pretended to walk to my car as I watched my mom walk back to the Bookstore. When I realized I was safe, I ran back to Ciao Bella to purchase the beach bag. When I met back up with her, I gave her the surprise!
The three of us left downtown to get coffee and talk about life, restaurants we need to try, and other various things. It was a great moment to be around family in my favorite little coastal Connecticut town.